Thank Your Wedding Guests With Unique Favors From keramicke-darceky.sk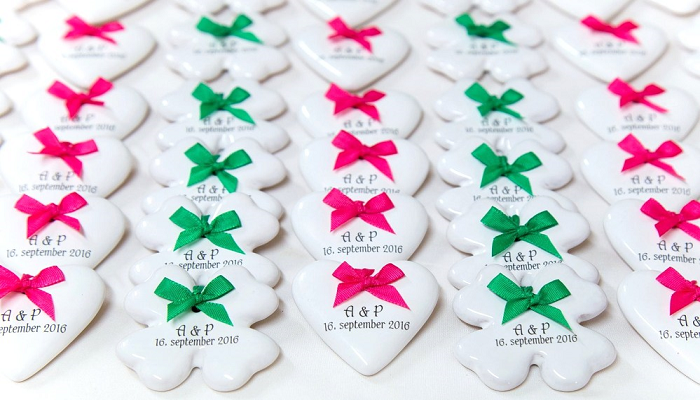 Do you or your friends have a wedding coming up and are you thinking about what you could give as an original favor to the wedding guests as a memory? Something small that they could take home from the wedding reception and that would remind them of this significant event?
A small family business from Slovakia named keramicke-darceky.sk located in the heart of Europe is dedicated to the handmade production of small ceramic keepsakes. These are mainly small favors with permanent prints, intended for wedding guests.
So what can you find in the offer? Today, the most popular favor for guests is a small ceramic magnet with the names of the newlyweds and the date of the wedding, which wedding guests can place on any metal object or refrigerator. The offer also includes original ceramic bells that sound beautifully.
You can choose from magnet shapes like horseshoes, hearts, doves, or four leaves clovers, which have a hole at the top through which a color ribbon of your choice is tied. You can match the ribbon to your decoration. There are also more luxurious white ribbons with gold or silver trim, which look much more exclusive. More informations about these products you can find at svadobné darčeky website.
On the website, you can create your own personalized design using the online editor, according to your taste and matching your decoration in color. Add your initials, date, custom text, and complete it with a ring or heart picture, and you will have an original design that nobody else will have but you!
After creating your own design and making an order, the manufacturer will send you a final proof of the print for approval, and after your approval, your design will be burned into the ceramic products in a kiln at 1100°C, which will fuse under the glaze and remain permanent. This type of print is the most durable in the world and cannot be damaged in any way. The manufacturer provides a lifetime warranty on the print!
Decide wisely and give your guests original handmade products with your own design that will forever symbolize the love of the newlyweds.