Wedding Packages at the Biscuit Factory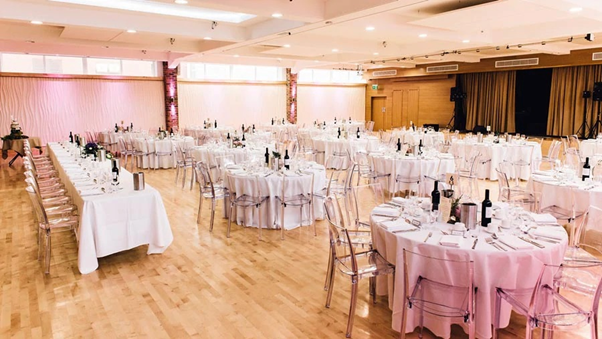 Wedding Packages to Suit any Wedding
Your wedding day is likely one of the biggest days of your life. So, you can be forgiven for wanting it to be absolutely perfect. But with so many options out there, deciding on which wedding package to opt for is a minefield.  
Thankfully, you can stop searching. Because the Biscuit Factory is here to provide you with a beautiful venue and wedding packages to suit every couple. 
Your Perfect Venue
We might be the UK's largest independent contemporary art, craft, and design gallery nestled in Newcastle's cultural quarter. But The Biscuit Factory actually started life as a Victorian biscuit manufacturing warehouse. After a sympathetic refurbishment that retained character-filled features such as wooden beams and original brickwork, The Biscuit Factory is the perfect place to say your vows. 
As a premier Wedding Venue in Newcastle, The Biscuit Factory is brimming with individuality, incredible architecture, and contemporary art. If you're looking for a place to celebrate your big day as unique as you are, then the Biscuit Factory Wedding Venue is tailor-made for you. 
Creating Your Dream Celebration
Our sprawling venue isn't just a stunning home for contemporary art. The backdrop of a Victorian warehouse and current independent art gallery will create a wedding day with a difference here at The Biscuit Factory. But making a perfect celebration isn't just about choosing a venue off the beaten path. 
Creating your perfect celebration means you'll need help. That's where our experienced wedding coordinator comes in. For us, making your day everything you dreamed of is a partnership. So, with the help of your personal coordinator, you'll be able to craft the perfect wedding day in our unique venue.
Wedding Packages for Every Wedding Style
Finding the perfect venue isn't just about the venue itself. It's about finding a beautiful place with an excellent wedding package to boot. At The Biscuit Factory, there's something for everyone. 
From couples wanting a more intimate ceremony to wedding receptions for all of your friends and family, you can have it all at our beautiful wedding venue. Each package at The Biscuit Room features a menu tasting for a sneak preview of your wedding food. And our dedicated team will be on hand to guide you through every step with experience and professionalism. But what are the packages available to you for your big day?
Delight
Our Delight package will give you everything you need to celebrate your big day with style. Depending on your needs, you can choose to have your ceremony in either The Gallery or The Biscuit Room. Delight can be catered to small or large wedding parties. With the Artisan room available for your post-ceremony fun for groups of 40 to 70. Or you can keep the party going in The Biscuit Room if your guest list is over 80. 
If you choose the Delight package, you'll get celebratory drinks with your friends and family included. And an exquisite three-course seasonal set menu wedding breakfast. With your dedicated wedding planner, you can create the perfect wedding day with the Delight wedding package. 
Celebrate Your Special Day
You'd love our Celebrate Package if you liked the Delight wedding package. You'll receive everything on offer in the Delight package, but with upgraded reception drinks and three hand-crafted canapes per guest. The Celebrate is sure to excite and impress your wedding guests. 
Indulge
For couples who want to splurge on their big day, our Indulge package will take your big day to the next level. Indulge features additional special touches to elevate your experience. These include champagne for toasting, a cocktail reception, and five-course seasonal wedding breakfast. Additionally, you'll be invited to a complimentary menu tasting experience before the big day. This package is perfect for the couple who wants to impress. 
Intimate Wedding Packages
If your perfect wedding means you just want your nearest and dearest close to you, we recommend the Intimate wedding package. This package is a flat rate for 40 guests with the option of adding additional guests. In addition, you'll be able to choose between The Gallery or The Glasshouse for your ceremony. And you'll get exclusive use of Artisan for your evening celebrations. 
Upgrades And Additions
To make your wedding day truly your own, you'll want to be able to tailor it to your tastes. This is where our carefully curated selection of additions can help you create the wedding of your dreams. Of course, all upgrades and extras are subject to additional costs. 
Canapes And Supper
You can choose to include chef-selected canapes with your reception drinks as you wait patiently for the feast ahead. Or you can opt for street-food inspired suppers later in the night as fuel for dancing. 
Champagne Or Cocktail Reception
Add champagne or cocktails to your reception and/or toasts for a touch of indulgence. 
Bespoke Menu Creation
If you and your partner are well-known as food lovers, then our bespoke menu creation service can help you create your perfect dining experience. Just let our talented chefs know your favourite dishes or anything you'd like to see on the menu, and they'll curate your dream wedding day food. 
Popcorn
Add some fun and whimsy to your wedding by having unlimited popcorn served from a vintage cart. Perfect for a late-night snack to soak up the celebration bubbly. 
Kid's Package
You'll likely have kids at your celebration. Make sure they can join in with the fun with the kid's package featuring a mocktail for reception, a 2-course kid's menu, and a soft drink for toasting.
For a detailed pricing breakdown, head to our package page.
An Inspiring Venue
The Biscuit Factory is a sprawling venue filled with character and individuality. Making it the perfect place to celebrate one of the biggest days of your life. With your personal wedding coordinator, you'll be able to curate your big day to perfection. And thanks to our wedding package options, there's a wedding option for every style.